In 1980 there was a crisis and the companies started closing and in 1983 a flood destroyed the old town. When they put the Gugenhein the crisis went away. Bilbao has changed a lot since then. Now it is a city of services.
The Theatre Arriaga is a theatre of Bilbao. It is a neo-barroque building of ends of the 19th century. It was built by the architect Joaquín de Rucoba and it was dedicated to the composer Juan Crisóstomo de Arriaga. It was like Mozart.




Sandbank: Arenal

Last century it was a beach. Later they put a few shipyards. When they eliminated the sandbank it turned into a green space with many trees and plants. Now it is the most green zone of old town.
The station of the north
:
There all kinds of material was transported:people, animals, minerals, food …
San Nikolas's church
:
It was a hermitage, but now it is a church. It is a barroque church with 2 towers and a dome. In the entry it is possible to see the shield of the Athletic.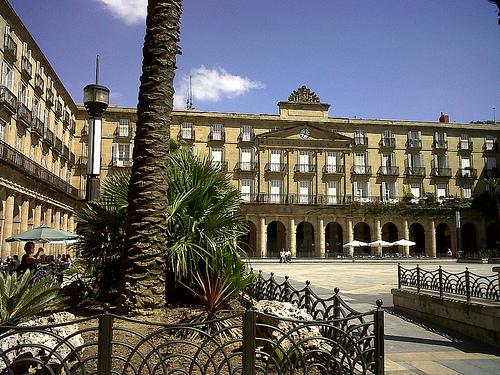 The new square
:
It was created in 1821. It is a copy to the square of Madrid and that ofSalamanc. Former it was a hotel and now the euskaltzaindia has taken its residence.
Lezama's train station
:
The train there was going to Bilbo's cemetery in Derio. In the high floor of the train station, there was a chapel where they said goodbye of the dead people.
The entry of zamudio:
Hereabouts it was entered to the city. It was the principal entry where they were putting the wool and the wine.






Arman Arguello Garai
3ªA